Hey ya'll!
I have hit a blogger's wall… again! But the lack of intriguing contents from this season is definitely not to blame; I am fully aware that many of you are actually enjoying the hell out of it. I guess I cannot feed myself on my favorite dishes all the time because eventually they will become the only few in the variety, in other words boring.
---
A (much needed?) status update!
I am downgrading from being a diehard seasonal anime watcher. But sadly this does not mean I am watching older shows either!
Let me get things that I remember the most out of the way first:
Aniblogger Coalition Podcast Episode 2 will not happen today! Best case scenario is I will release a recording of me talking to myself, albeit at a much shorter time.
I apologize if my ramblings about the current season being dry; 2018 Winter Season is not as bad as I make it out to be! So here are some of the things that I legitimately keep up with all of my efforts:
I was not lying when I'd said that I went from my seventeen shows in 2017 Fall Season to five in the current one. Though, I also do have shows on my watchlist in which I exert next to no effort in following their trails:
You would expect me, a huge-as KyoAni fan, to be on top of Violet Evergarden but nope — I am with the minority here, I guess!
---
The Haul
Eventually the time would come; when I step into a shop that happened to sell anime merchandise.
To be specific, I went into a pawn shop. And I got myself a small cup to drink like a boss.
Okay, sorry for being off topic!
Despite having CLANNAD on my PC already, nothing could stop my collector self from reaching out to an official guidebook.
Next up I have a well known game (which got adapted into anime — thanks ufotable!) on a platform I could have sworn, went to rest in peace around pretty much everywhere except Japan. Nobody said that you could not enjoy single player games and their potentially extraordinary story modes. I feel like times have really changed; whatever happened to single/dual player games with deep and rich story/game-play. I truly miss beat em up's like Dynasty Warriors 5 which took me five casual months to complete. I'm sure it has something to do with how kids today will actually spend all day and every day grinding to the finish line like it is a race.
Okay okay, real anime merch this time…
I promised you that much.
This time I have only got around to figurines from Haruhi Suzumiya series, which actually surprised me due to how neutral I am with it. I wouldn't highly recommend the show to literally just anyone—let alone newcomers to anime—but I wouldn't go as far as telling anyone to avoid the show simply because of how mind-bogging it is.
I snatched Ryouko. Surprised?
You shouldn't be as I bought her off (for a dollar) as a damaged item. Just look at that one strand of her hair being cut off, haha!
Not to mention that the figurine's stand has gone missing but thanks to her designers acknowledging real world physics, she is actually able to stand on her own.
Now, any fans of Haruhi franchise would know that she's totally a good girl until you notice a–
It is not Haruhi Suzumiya without the titular character. I don't think any fans of the franchise will swear infidelity to this God, telling you that they went into the series again and again but not for Haruhi herself.
Haruhi Suzumiya EX figure Sigh II from Sega. The scene is right off from those few seconds of episode 20.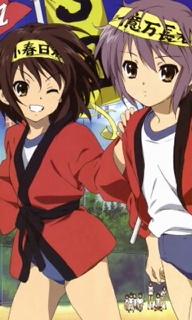 I have her standing tall right behind my computer screen so when anyone comes for a visit, they would see Haruhi being all smug before my very face behind the screen.
---
Alrighty! Now I need to just get back to doing what I have always done for my little blog; the wonders. I know that they are usually the most boring part of my contents since they are filled with personal opinion, but everyone will most likely tell you to do what you love.
I sure am.
Thanks for keeping up with Shoka. Until next time~