My oh my!
It is the first season in which I have ever finished watching majority of the shows in my list. Well, Winter 2018 kinda asked for it since I have made no secrets about my view towards the lineup.
In the first part I will simply be giving my end-season thoughts on some of the shows that I have actually completed (hooray). I-I think it is pure coincidence that all of the titles featured in this part happen to be mild to heavy in 'service'.
Read and stare with caution.
Lock your doors. Shut your windows and down with the curtains. Feed your pets. Make sure your siblings are not going to bother you in the next ten minutes. Pray that the FBI isn't directly spying on you right now.
Okay. I'm joking for the most part. Let's go~
---
Blend S turned out to probably be the safest way to enjoy episodic comedy anime in fall season, even with the involvement of a trap and fetishists. The subtle romance snuck in places made viewing feel more engaged since comedy in question was a bit of hit and miss.
While the show pretty much lives off success from slice of life comedies such as Working!!, calling Blend S a rip-off would do more nae than yay because from the get-go, fetishism is recognizable by the majority—anime fans or not. And the show utilized that very aspect for our beloved characters' dynamics.
Apparently there is still a concern regarding Dino possibly being a pedophile; he probably is but I have personally seen a working couple which leaned towards the more extreme end. My parents are 19 years apart so seeing Dino's possible relationship with Maika was just another normal thing in my everyday life. Age really is just a number when there are no ulterior motives, though such condition is practically considered a miracle nowadays. So, even if everything in this show looks normal (and enjoyable) to me, I can totally see why some others are not so fond of them and there is nothing I can (or should) do to change your stance. Yeap. Even your episodic comedy show can still fit into the 'personally relatable' category.
Taking everything into consideration, Blend S ticks so many boxes of S, especially the service one.
---
A lot of you probably share the same thoughts with me when we were all taken in by its false delicacy, reflecting anime show references and conventions, the anime community, myriad variations of anime fans and most importantly the anime itself.
I'd already foretold the incoming batshit crazy substance right from the moment I'd seen a talking cat, really. But I still wish I could have whatever drugs director Morii Kenshirou was on at the time of making the show—because damn—he absolutely fulfilled his dream of actually putting himself inside an absolute lit scenario. Anime-Gataris is a fun show with no set objectives for enjoyment; it just wants to see how much damage can be done before people lose their shit. It pokes at everything that makes anime memorable and regrettably, painfully unforgettable such as Kouki's alias being Aurora. It legitimately spent an entire finale on that part alone!
I remember having stated that the show is indeed making use of the Western term 'anime' instead of the actual Japanese shorthand which actually means "all types of animation."
No matter how much of a weeb I may be, Aurora still came off as a name which is easier to remember than both his surname Nakano or first name Kouki, and Anime-Gataris really delivered that specific message to many non-Japanese Otaku in probably the most hectic way possible.
As if Blend S was not enough for my service fulfillment, Anime-Gataris serves as another show within the same season which made me feel blatantly serviced as an anime veteran.
How could I forget that one time when the opening was absolutely hogged by Yui. accompanied by many close-up shots of her body and….?
---
The service train never stops, honestly…
This one however probably sits closest to the colloquial term 'fan-service' used by non-Japanese Otaku around the world.
Imouto sae Ireba Ii. or ImoutoSae to me is most definitely one of the hardest to criticize without ending up feeling like a total dick. Totally not because the show is heavily tied to the landfill of quality trash out there (Eromanga-sensei) but rather… what exactly has this show done to the fullest?
ImoutoSae felt incomplete by a long shot. That was my biggest issue when having to think about ImoutoSae's most redeeming qualities.
The show could not even get anywhere close to Shirobako's level of love letter to the light novel industry. It also has incomplete romance and pointless melodrama to top off. I actually thought that the show would have been such a bliss if the romance part was mostly taken out at least for the first season. This leaves the one thing about ImoutoSae which had not failed me; not once, not at all.
The sexual comedy.
A few characters were able to drive some nuts up my laughing ass but there could only be one true queen.
It is clearly Kani Nayuta. She is without a doubt the sole reason anyone would stick to the show after a third of its seasonal run. She didn't win 2017 ISML fall season necklace for no reason.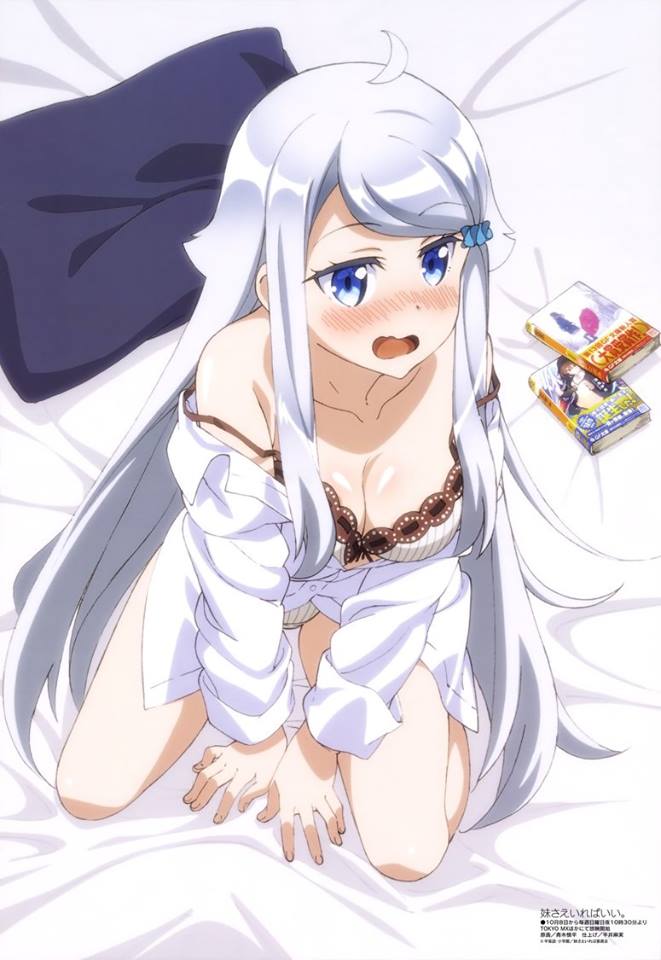 I am still going to hold onto the phrase I'd said in my first impression for this show:
"A little sister is not all I need; I need Nayu in my life!"
Wait, I think I may have found her.
Throughout Fall season, the show definitely held its ground even with incoming lashes from hypersensitive, insecure realists. For many—myself included—who came into the show expecting best of the best quality trash, that was exactly what we got, right?
This is how you do customer (fan) service which guarantees satisfaction. Take heed to de wey.
DE WEY
Sit back and relax or fap to this mid-tier fan-service piece. Mating season may only come once each year but there is absolutely nothing holding you from satisfying yourself, boys. Do it while you can because shall there be no sequels, the show's longevity is seriously in question.
---
I'm actually baffled by how I managed to keep a straight face while having to talk about these shows, especially the last one.
Thank you for reading my quick thoughts about them and see you in the next part!
| Part 2 >