Welcome back to the fourteenth day of the challenge, let's go~
Anime That Never Gets Old No Matter How Many Times You've Rewatched It
---
In other words, I only have to mention a classic anime show that we still love to talk about today!
Me being myself, will have to go with the golden standard for marshmallow show…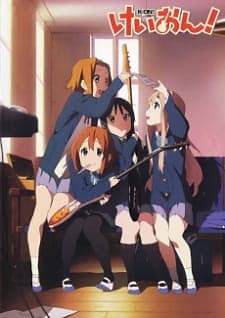 ---
This show simply never gets old. There just aren't a lot of shows that can have their stories feel new and refreshed every single time you restart from the beginning.
What could have easily been noted as cute girls doing cute things on repeat happened to showcase subtlety of the plot. There's no mistaking it; K-On! is a seinen slice of life but watching the girls' journey felt a lot more shounen than some actual shounen shows out there. There are real senses of starting point, check-ins and finishing point; this show has a true sense of progress. Even if the characters don't 'develop' much, there are enough changes to make me think that these girls at the end of K-On! Movie are by all means different to their past selves back at the beginning of the franchise.
It is also a music themed show, and it should come to no surprise that K-On! is MAJORLY responsible for the massive influence of having seiyuu to sing on top of voice acting in anime industry. The fluffy guitar-pop music in this show is absolutely timeless; the song pieces would still be constantly compared with any other anime-related tracks that scream light music (keion, hence the name of the show).
This anime in general does many things right for a TV show. It starts off as a single cour so many newcomers can actually taste-test it. Shall they be wanting more, the second season offers twice the amount of content; satisfaction is an assured feeling any fans of K-On! would gladly tell you after each and every time they have made it out of the entire franchise, that along with some other personal feels.
---
You and I — The Veterans
Because K-On! series never feels old no matter the number of times I binge it, a great re-watch experience is guaranteed for when you introduce someone into the world of anime. I happened to show K-On! Movie to my cousin who came to visit me two days ago, and her words were only of praises to how cute, happy and realistic the characters are. This is all coming from a person who actually doesn't watch anime.
That said, the show is also one of the best gateway titles of all time if not the best, because really — I have seen someone rant about how they would recommend Bleach and every other battle shounen to a newcomer in a heartbeat.
See the contradiction now?
Just who will you believe?
(Hint: not me)
---
I'm just going to leave this here because Alfredo has finally come to terms with the final opening's greatness! I will definitely also talk about it one day. I know that Mother's Basement has put in his two cents already, but I have my own voice, too.
---
Easily the best challenge to have my heart feel the fluffs. It feels so warm and good to talk about it with you all~ ❤
See you (back here) tomorrow!